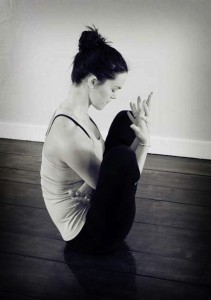 Heidi Schubert, RYT-500
Heidi Schubert, RYT-500, BLA, is the founder of Private Yoga San Diego.  She discovered her passion for yoga and fitness while attending college at California Polytechnic State University in Cal Poly, San Luis Obispo, and began practicing in 2005 while  studying for her Bachelor's degree in Landscape Architecture.  While her interests in yoga sprung from reaching fitness goals and maintaining a healthy lifestyle, she quickly fell in love with not only the physical aspects but also the mental and spiritual aspects of yoga as well.  By the time she was awarded her BLA degree five years later, she had decided that yoga would be a large part of the career path she would choose to follow.
Heidi studied for her 200-Hour Yoga Teacher Training Certification at the Shakti Spirit Yoga School in Ubud, Bali.  The intensive, six week program covered the subjects of Pranayama, Meditation, Anatomy, Ayurveda, Teaching Methodology, Practical Skill, and Philosophy.  Teaching methodology focused on a multi-disciplinary approach to sequencing, including Iyengar, Hatha, Ashtanga, Vinyasa Flow, and Vini-Yoga (including many more!). A focus on safe corrections and adjustments was emphasized throughout the training to ensure that as teachers, we would create safe environments for our yoga students.
In July of 2011 Heidi also completed a primary series, 100 hour teacher training with her teacher Tim Miller at the Ashtanga yoga center.  This included yoga philosophy, mythology, and detailed alignment and adjustments for the full primary series.  She has also completed her 500 hour, professional level teacher training certificate through Yoga Works  one of the first and most well respected yoga schools in the world (or as Heidi calls it, her PhD in teaching yoga!).
Heidi hopes that through the combination of her knowledge in yoga asanas and philosophy with fitness and nutrition she can provide a holistic fitness plan that helps not only the body but the mind.  Through yoga people can find peace and joy within their true selves, and bringing this to people in a safe and private setting will allow for personal growth towards a healthier and happier lifestyle.  Heidi thanks her teacher, Tim Miller, for his inspiring spiritual and physical guidance, keeping her love of yoga growing more and more each day.
Jason Shurtz, RYT-200
Jason found yoga for the same reason that many others do – injury. And as a former professional snowboarder, he is no stranger to injury. Jason has had broken arms, legs, shoulders, and hands. He has torn and strained knee ligaments, herniated discs in his back, and a suffered a traumatic major dislocation of an ankle that required 3 surgeries to repair, all before his 22nd birthday. It was after these injuries finally cost him his professional snowboarding career that Jason began to research ways to make his body stronger and help prevent more injuries in the future.
Yoga inevitably bubbled up in his exhaustive researching.
Although he started at the relatively early age of 25 and being initially more interested in injury prevention than treatment, there has always been an element of treatment to his yoga. "I was pretty ignorant at first honestly," he laughs, adding "I thought yoga was only for crazy hippies. But I was desperate to find something that could help so I gave it a shot."
As many people have experienced when dealing with injuries in their lives, yoga began to work it's magic on Jason's body. He often jokes that he should have the body, knee's and lower back of an 80 yr old man. Fast forward over a decade of yoga, Jason is now nearly 40 years of age, yet he finds himself more active, and more capable of activity, than most others in their twenties or thirties. "I see Yoga as a fountain of youth of sorts… an ancient art and wisdom passed down through the lineages of time for us modern active, or not so active folks to get the most out of our bodies and minds, for as long as possible."
The proof he says; "…is in the pudding. I live in San Diego, CA. and surf everyday it's good, and especially when it's good. I also travel every year chasing waves. If my body isn't tuned and ready when surfing in bigger waves, I could very easily be in a life-threatening situation very quickly." Then you add on the fact that he plays rec-league soccer every week with people that are mostly in their early twenties, and still snowboards like a bat-out-of-hell maniac when the season is on, and you have to say there is something more going on to his lack of injuries when compared to earlier in his life than simple luck. "It's obviously the yoga. At the very least it has a major part to play in my continued health."
Jason has recently taken his experience and passion with yoga to the next level by completing his RYT-200 yoga teacher certification with Gerhard Gessner of La Jolla, CA. This certification gives Jason the opportunity to work with others and to help them integrate yoga into their lives. In a time when aggressive cross-fit-type exercise programs and MMA workouts are increasingly being sold as the magic ticket to ultimate health, and without much note taken on the alarming rate of debilitating injuries associated with those types of exercise, Yoga is needed more now that ever. "Yoga is often falsely seen as a workout here in the west. And while someone wouldn't be wrong in cultivating a yoga practice to strengthen their body, which it most definitely would, but when utilized properly yoga is an amazing rejuvenating practice and a tool that not only strengthens, but also heals the body at the same time. Not many other types of 'exercise' can make that claim. And that's without even bringing up all the mental benefits of stress reductions and clarity that you get from, in my opinion the true intention of yoga, a moving meditation. Anyone and everyone needs, and will benefit by having yoga in their life."